Leigh Nash Of Sixpence None The Richer Remembers Bono Saying He's A Fan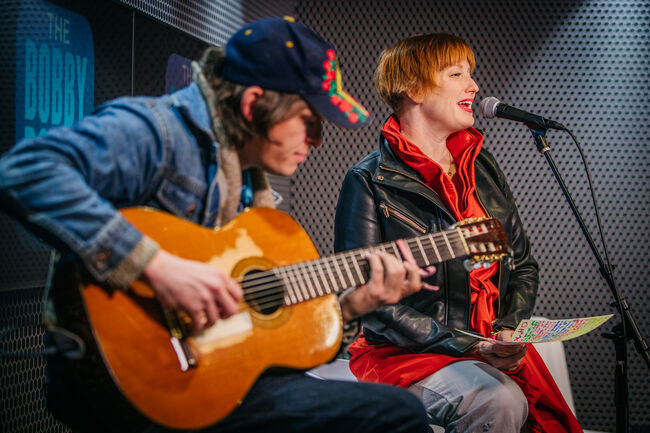 Leigh Nash is famously known as the lead singer of Sixpence None The Richer and the vocals behind two massive hits heard in many movies and TV shows "Kiss Me," and the remake of "There She Goes."
Bobby Bones saw a photo of Nash in a picture with Leslie Fram of CMT, and found out Nash lived in Nashville, so he said she had to be on The Bobby Bones Show. Along with Nash, she brought her husband Stephen to play the guitar and a notebook full of lyrics to her songs.
Despite singing her songs thousands of times, Nash admitted that she has a "panic of forgetting things." She recently played a New Years Eve performance in Washington as a surprise guest and everyone sang back so loudly that she forgot the words. So now, she's making sure that doesn't happen again by bringing a colorful notebook that includes the lyrics written in crayon.
While some artists don't enjoy singing or being reminded of songs of their past, Nash said she's thrilled and proud of her history with Sixpence None The Richer and hopes that they make new music in the future. When the song "Kiss Me" hit, she confesses that she didn't even know the band was becoming so famous due to how much they were traveling. It wasn't until after playing on David Letterman that they realized the impact of the song. During her time on Letterman, Nash was one of the only performers in the history of the show to be performing and asked over to talk to Letterman following the performance. Nash said that she watches back on the interview now and cringes because she doesn't feel she was very composed, but despite that, Letterman was very kind to her. Following the appearance, the band was recognized multiple times at the airport and starting to realize their song was taking off along with their fame.
Nothing will be as memorable though as hearing Bono was a fan of her. Nash shared the story of meeting Bono in Nashville. She went to see him at a speaking engagement and when he came off the stage, he came up to her and kissed her hand stating "I'm a big fan," then swiftly walked out of the room. Bono was the "coolest person" she met during her long career, she only wishes she wasn't wearing gloves during the encounter so she could have actually felt the "flesh to flesh."
Sixpence None The Richer's other massive song was a cover of "There She Goes." Nash shared that they performed it at live shows all the time with no intention of recording it, but when everyone would sing it back their way, they knew they had to. The band spent 24 hours with the original song performers The La's, and Nash laughed saying that the song definitely helped make The La's more money after their cover was released.
Currently, Nash is performing her own songs and living in Nashville. She released several singles in the last few months, including one called "God Gave Me Horses" that was inspired by a prisoner. She shared that she went to visit a farm in Nashville that houses police horses. While she was there, she met a prisoner who was at the farm on good behavior and he shared his story with her. That story inspired "God Gave Me Horses" and now Nash is performing the song in dedication to the prisoner.

Bobby Bones
Want to know more about Bobby Bones? Get their official bio, social pages & articles on Bobby Bones!
Read more